As the world's largest and most exclusive supercar club, Fast Lane Drive has carved a niche for itself in the world of high-performance cars, networking, and philanthropy. With 10 chapters spanning the globe, from San Diego to Las Vegas, Miami, and even Monaco, each chapter organizes monthly rallies for its members.
Part of the secret sauce that has made Fast Lane Drive what it is today is an unforgettable afterparty. If you've never been to a Fast Lane event, it usually goes something like this: wake up early for a morning rally with all your closest friends, stop for lunch and plenty of photo ops along the way, then head back with the crew to get ready for a perfectly curated evening hosted by car club. These evening gatherings are legendary, where the who's who of each chapter's supercar world come together to revel in the passion for speed, elegance, and fun.
With every event, Fast Lane Drive's organizers are getting more creative and more exuberant, making each one better than the last, and each one much harder to beat. Without giving away any surprises, here's what you can expect from a Fast Lane Drive afterparty.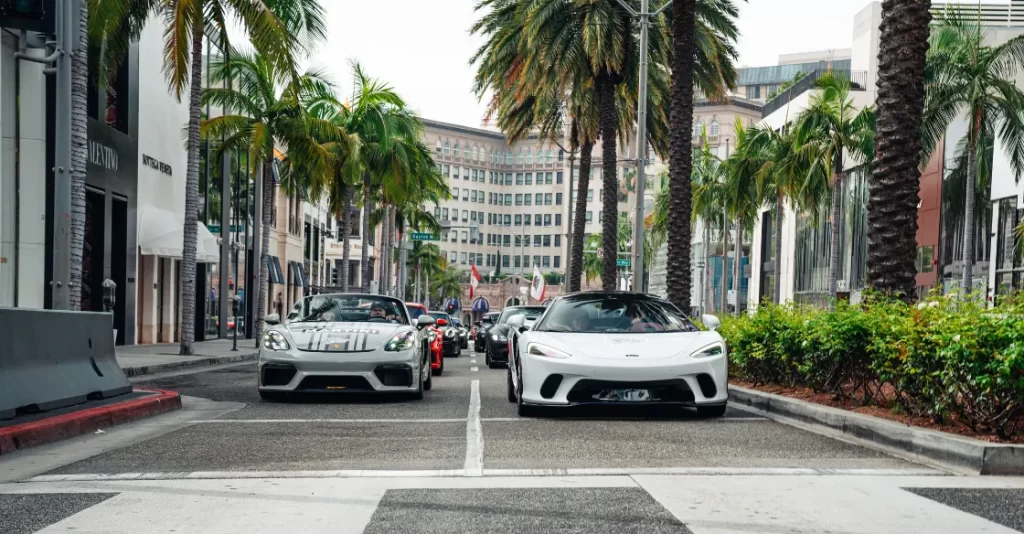 Yacht Parties – Sailing into Luxury
The party doesn't stop when the road meets the ocean. Fast Lane Drive's chapters in San Diego, LA, Miami, and Monaco have been known to throw quite the yacht party, and they always encourage visits from members around the world. Picture this: A fleet of Lamborghinis, Ferraris and McLarens lining the marina, with their sleek designs reflecting off the crystal clear waters. Members and their guests board luxurious yachts, with champagne flowing and gourmet cuisine served into the night. Any member will tell you that you can't miss a Fast Lane Drive yacht party.
Beats and Supercars
Fast Lane Drive doesn't just focus on the aesthetics of supercars; they also know how to get the party started with world-class DJs. These afterparties are held at dazzling locations that create an electric atmosphere. Our elite car club members often find themselves dancing the night away in the company of their closest friends. An emphasis on creating a perfect social atmosphere is what makes Fast Lane Drive the world's greatest club for cars.
Members Only Clubs – The Ultimate Social Hub
Fast Lane Drive has the key to members-only social clubs around the world, providing access to some of the most exclusive party spots. These venues are meticulously chosen for their luxurious ambiance and ability to cater to the unique tastes of supercar aficionados. From top-shelf cocktails to gourmet appetizers, world-class performances and more, these clubs are some of the ultimate social hubs for members to let loose and network.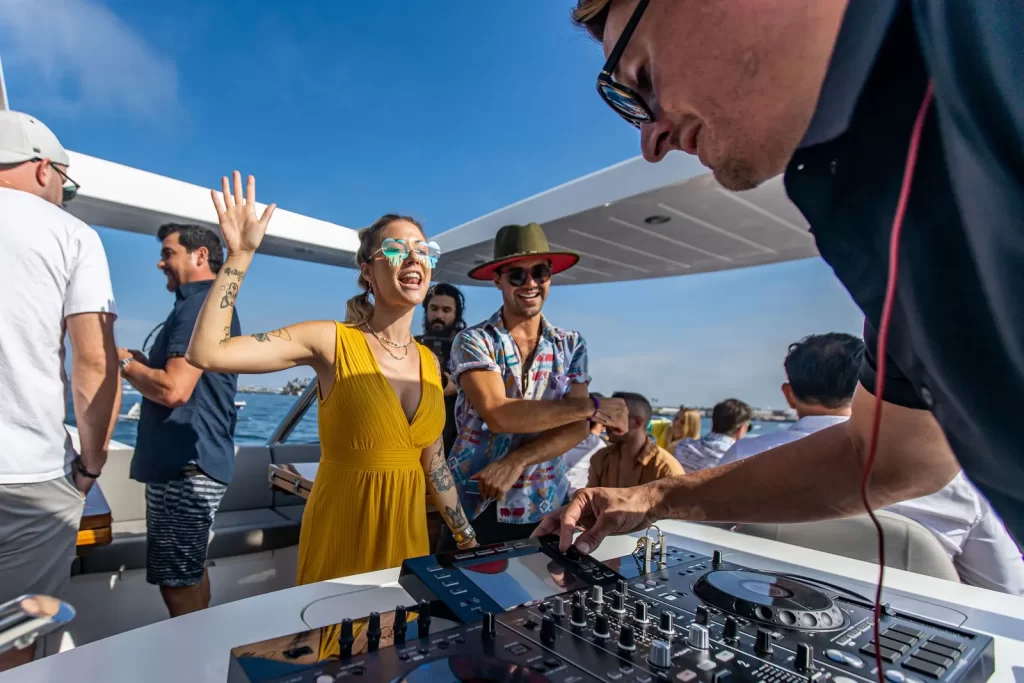 Private Jets – Taking Luxury to the Skies
For those who desire an unparalleled experience, Fast Lane Drive has been known to take things to the next level, flying its members home from weekend events on private jets to keep the party going. Imagine stepping out of your supercar and into an airborne soirée that offers breathtaking views, gourmet dining, and a chance to bond with fellow members in the most exclusive setting possible.
Wakeboarding – Thrills on the Water
Fast Lane Drive isn't just about the thrill of the road; it's also about the thrill of the water. Some chapters have organized wakeboarding afterparties, where members can try their hand at another exhilarating speed sport. After a day of cruising in their supercars, members get to harness the power of the waves.
Gastronomic Experiences – Fine Dining
For those who appreciate the finer details in life, Fast Lane Drive has organized afterparties at some of the most sought-after fine dining establishments. Members gather for gourmet feasts, renting out entire restaurants or beach-side patios where world renowned chefs craft culinary masterpieces to be savored alongside conversations about supercars and philanthropy.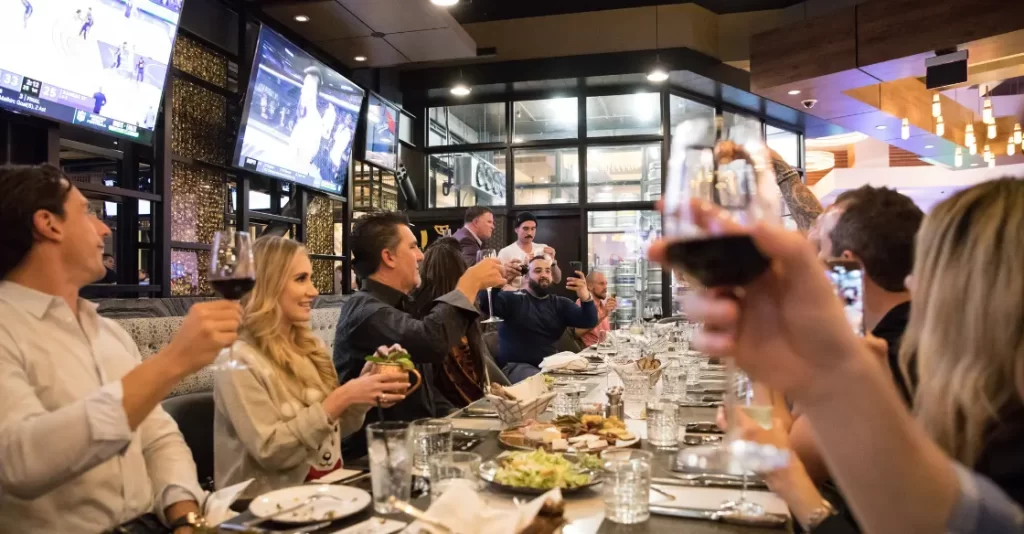 Track Days – Where Speed Meets Precision
Fast Lane Drive is all about celebrating the exhilarating world of supercars, and what better way to do that than by speeding along a racetrack? Many chapters have organized events at renowned car racetracks as a party of the rally experience. These include track days, where members have a chance to push their supercars to the limits in a safe and controlled environment—although you might walk away needing a new set of tires.
Philanthropic Galas – Making a Difference
Beyond the glitz and the glamour, Fast Lane Drive is deeply committed to philanthropy. Many afterparties are dedicated to fundraising efforts and charitable causes, with some entirely based on philanthropic endeavors. Members come together to support various initiatives, from environmental conservation to children's charities. These events serve as a reminder that the supercar lifestyle can be a powerful force for good. In the past Fast Lane Drive has hosted galas and events to fundraise for the Leukemia & Lymphoma Society, Voices for Children, and countless other philanthropies that reach both far and wide.
Fast Lane Drive isn't just a car club, it's an experience that transcends the boundaries of luxury, speed, and philanthropy. From yacht parties to private jets, cultural immersions to gastronomic delights, these gatherings offer something for almost every supercar enthusiast. Plus, they remind members that the love for high-performance luxury supercars can be a powerful catalyst for positive change in the world.
To learn more about membership opportunities and which chapters are accepting new applications, go to https://fastlanedrive.com/join/.